In this digital marketing realm, the role of social media optimization (SMO) experts has become crucial. These professionals help brands to leverage the full potential of social media platforms.
Are you finding relevance for your brand to build a strong digital presence? You have come across the right blog. Here, we will discuss the importance of SMO and social media optimization experts in digital marketing. We will also discover how they help you to achieve success online.
Understand The Multifaceted Role of SMO and Social Media Optimization Experts
What is the Difference Between SMO, SEO And SMM?
SMO or social media optimization is one of the crucial processes in digital marketing techniques. SMO increases brand exposure in social media by optimizing content, profile performance, sharing content, and using other tactics.  It includes both organic and paid advertising tactics.
SMM or Social media marketing is a paid ad campaign for social media platforms. It takes brands to the targeted audiences from specific locations within a short-term period.
On the other hand, SEO or Search Engine Optimization is a different process. It is an organic process of search engine marketing to make a brand easily findable on search engine result pages.
However, all processes work towards a common goal to boost the web presence and reputation of brands and generate more leads.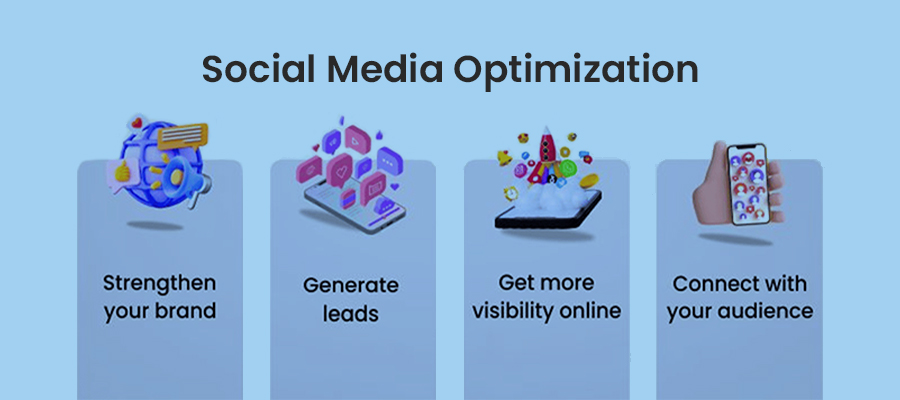 Why is SMO Important for Business?
So, what is the goal of SMO? It aims to increase brand exposure, boost engagement, and drive traffic to a website by both paid and organic means.
SMO process is important for business because it offers the ROIs as follows:
Build a Strong Web Presence
SMO builds a strong online presence and reputation and improves brand reach across all platforms of social networking sites. It ultimately results in increased brand awareness and recognition.
Improve Reach with Targeted Marketing
SMO process makes all elements of a social media profile optimized and aligned with the target audience preference. Whether the content, hashtags, captions, profile picture, images, texts or video, or landing page, it makes everything marketing-ready.
Drive Traffic
SMO experts help businesses to bring targeted users to their business websites. This method also leads to audience engagement and captures leads from these active social media users.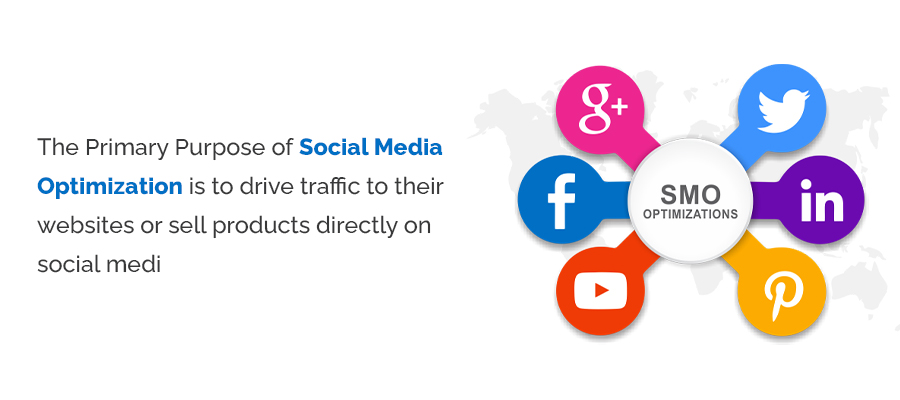 Boost Conversion
SMO indirectly boosts conversion through split testing, content marketing, and engaging users at a deeper level.
Increase Organic Rank on SERP
SMO boosts inbound links and builds website credibility. It improves domain authority rank and signals search engines about brands' expertise. It will ultimately push the rank organically on the result page.
Who Are Social media Optimization Experts?
Social media optimization experts refer to professional. They possess expertise and essential skill set to maximize brand presence on social media platforms.
So what does a social media optimizer do? They perform the following tasks:
Operate various social media profiles
Optimizes profile performance
Create content based on plans and strategies
Develop social media strategies.
Analyze the audience to understand preferences, choices, and disliking.
Manage social ad campaigns.
Create visual storytelling.
Manage online reputation.
Which Responsibilities Social Media Optimization Experts handle in digital marketing?
An SMO service provider wears several hats while managing online promotion efforts. This includes a comprehensive range of services as follows:
Play a Multifaceted Role in Social Media Marketing
SMO experts are strategists, creative thinkers, and analysts.
As a result, they play a crucial role in the end-to-end process of social media marketing campaigns.
Create Engaging Content
Content is king in the digital realm, and SMO specialists understand this better than most. They create customized content strategies as per specific needs, post them with effective scheduling, and adapt changes with performance analysis.
The team of social media optimization experts develops engaging visual posts, copy, memes, and other relevant content. In addition to these, they brainstorm authentic ideas in order to keep the audience engaged.
Handle Social Media Advertisement Campaign
Social media optimization specialist creates and manages advertising campaigns across all targeted social media platforms to increase brand awareness. This is how they ensure to boost ROI to the maximum range and drive effective results by spending prudently. Furthermore, they understand the complexities of ad targeting, budget management, and ad design.
Optimizes Social Media Profiles
Social media optimization experts not only set up profiles but also optimize the profiles for search engines. It boosts profile visibility and reaches and attention of targeted users. It also leaves a positive impact on SEO rankings.
Data Analysis and Strategy Refinement
One of the most crucial aspects of the job of an SMO professional is data analysis. Yes, an expert professional in SMO services conducts performance and trend analysis to adapt to change faster. This is how an SMO professional create strategy to help a Brand to achieve social media goals faster.
Work With Influencers
Social media optimization managers work in collaboration with social media influencers. It helps them to bring the brands faster to their potential group of customers and achieve follower growth. This is how they convert social media followers to loyal customers.
Online Reputation Management
Social media optimization experts manage brand reputation online as reputation can make or break a brand. They manage feedback, ratings, and reviews and reply to customers to boost bonding with customers. All these efforts contribute towards making a positive image for brands.
What Are The Unique Role And Responsibilities Of SMO Experts?
The distinctive aspects of SMO expertise are as follows:
Tapping into Trends
Experts who possess special skills in social media optimization are trend-watchers. They are agile in identifying emerging trends and conceptualizing a strategy to leverage their reach. It helps brands to adjust their online presence with changing algorithms and adapt to new struggles quickly.
Understand The Platform Nuances
All social media platforms do not run on the same pattern. Its engagement pattern differs based on demographic rules and user segments. Here SMO experts help brands to take up appropriate strategy that suits each platform and effectively target potential segments.
Compliance and Ethical Practices
Social media platforms have separate rules and regulations. All users and participants have to adhere to these policies as community guidelines. Things can anytime go wrong in case of a policy breach.
Best Social media optimization experts can save brands as they are well-versed in these policies and ethical practices.
Also Read: Social media marketing mistakes to avoid
What Are The Impacts Of SMO Expertise in Digital Marketing?
The SMO experts leave a profound impact on the digital marketing campaign of a brand in the following ways:
Improved visibility
SMO expertise ensures that a brand is visible and accessible to a wider and more relevant audience.
Enhanced Engagement
Specialists of SMO services ensure that Brad can build meaningful engagement with the target audience.
Higher Conversion Rate
A Social media expert comes up with the best strategy to drive quality leads where the chance of conversion is too high.
Cost-effective Advertising
SMO experts create ad spend budgets prudently so that achieve the best value for spent money.
Brand Loyalty and Advocacy
Social media experts help brands build brand loyalty and spread positive word of mouth.
Let Us Achieve 3X Profit For Your Brand
Are you finding the best social media optimization experts Hire the best social media optimization experts in India. Talk to our SMO team now in a free consultation session! Mail or call us today to get a free SMO strategy for your brands!
Frequently asked questions
In SMO, First, set a clear goal and know your audience. Therefore, choose your target platforms and design a separate strategy. Afterward, implement the plan, track the performance, and adapt changes simultaneously.
Starting from profile setups, optimization, content creation, engaging audience, and performance analysis to measure ROI, social media optimization experts wear multiple hats.