Cleaning services were once marketed solely through word of mouth. Whereas that is still a reliable source of income, you probably would like to achieve as many prospective clients as you can.
So, how do you go about doing that? By being visible where they are going to look: the Internet.
We've put together a list of cleaning business's digital marketing tactics that will assist you understand how to market a cleaning business and do lead generation on the Internet.
Marketing online is one of the most effective ways to interact with potential customers in an era when keyword research keeps driving more than 50 percent of all website traffic. There are various methods for doing so, and some of the most efficient digital techniques for cleaning services are listed below!
5 tactics that can assist with cleaning service digital marketing
1. Maintain a comprehensive, yet simple, website
When someone is searching for a cleaning service and you wish they should choose yours, you must provide them with some basic information.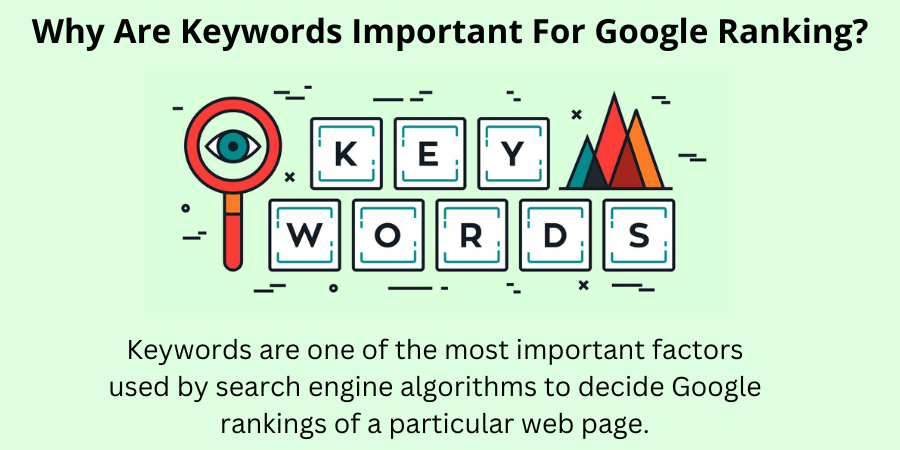 You must first convince them that you provide precisely what they require. For example, an individual seeking maid assistance every other week will necessitate a different type of cleaning company than a business seeking nightly cleaning personnel.
Be precise about the packages and assistance you can provide, and discuss them on your website.
You can go into greater detail about each service on sections of the website, which consumers will look for if they are specifically interested.
How a cleaning services company screens their employees is equally important to anyone hiring them.
Safety is a major consideration for anyone who allows strangers into their homes or workplaces. Make your readers feel at ease and self assured that you have considered their safety by trying to explain your safety procedures on your website.
Even if you're a solo cleaner who does all of the cleaning yourself, create a summary that helps to explain your qualifications. Add testimonials that talk to your skills if you've been in business for a while.
Eventually, imagine your website without pictures.
Ensure that your website includes images that demonstrate what you have to offer for clients. Both before and after photos are included.
2. Encourage satisfied clients to provide feedback on your cleaning services.
Reviews assist you in establishing trust with those who are interested in your services.
While you should not give your clients money or gifts in exchange for reviews, you can inspire them to leave feedback in a variety of ways.
Email customers who have recently used your cleaning services if you use email marketing as part of your online marketing for cleaning services.
You can also ask people in person or add a reminder to your website. Google, Facebook, and your own website are all excellent review platforms, but you are not limited to those.
Once you've received reviews, don't forget to respond to them, whether positive or negative.
Your response demonstrates to your audience that you value feedback from customers and are willing to pay attention to their suggestions to improve your business.
Reviews are important for commercial cleaning SEO services and  local SEO because they help develop customer trust.
3. Maintain a social media presence for your cleaning company.
Social media should be a component of any cleanup company's digital marketing plan.
You or your employees are almost certainly by now active on significant social media platforms such as Facebook, Twitter, Pinterest, LinkedIn, and YouTube.
Your cleaning services company should be present on at least two of these social media networks.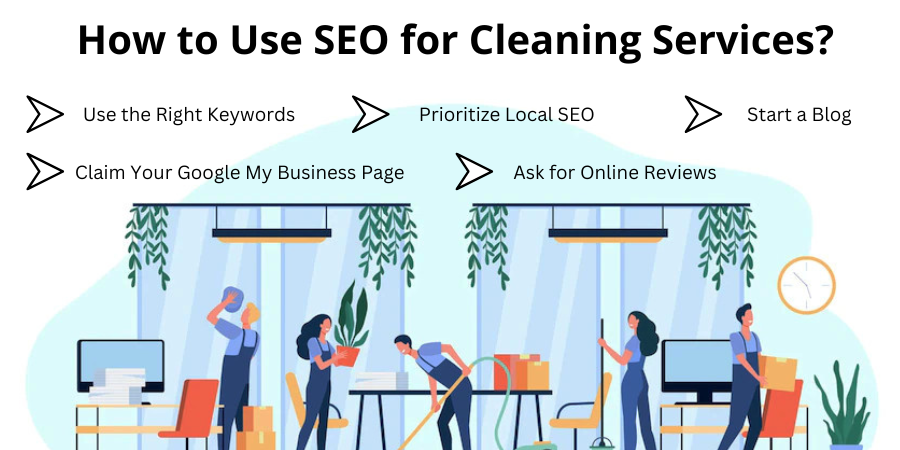 Begin by making a Facebook business page. This step is crucial because people get used to seeing a Facebook connection for businesses.
You should include a short outline of your offerings on your Facebook business page.
Don't forget to include things like how to contact you, any specials, your services, your years in business, and so on. These are differentiating factors that will entice visitors to your Facebook page to continue reading on and possibly call or email you.
Bear in mind that when you access your Facebook business page to the public, you would be allowing customers to leave feedback. Some of this feedback may be critical of your business.
If you're primarily interested in commercial cleaning SEO services, LinkedIn may be a better place to invest your time. And if you get serious about photographing your services, Pinterest revolves around images! What is the most important feature of social media? Being in the moment!
4. Take photos of your work.
Telling people that your company does great work or word of mouth isn't enough. People demand evidence that you understand how and where to clean and that you perform it correctly.
To gain trust in your cleaning companies, your digital marketing should also include pictures of your company's work.
Take pictures of the space both before and after cleaning it with your clients' permission.
Take photos of your team at work. Display the equipment they employ and the precautionary measures they employ to ensure that each job is as good as the last.
You can use these pictures in your emails, post them on social media, post them online to your webpage and other review sites, and add those to your Google Drive as long as you have approval.
5. Use Google Ads to advertise.
Google Ads is available to assist companies of all sizes achieve a competitive advantage, and there is unquestionably a lot of competition when it comes to cleaning companies!
Google Ads is intended to give you the bang for your buck — all you need to do is maximize your ads such that they:
Choose keywords that are relevant to your type of cleaning services provider. Correct PPC keyword research will assist you in selecting the best keywords for your business.
Get straight to the point. In terms of text length, you won't have much leeway. Just showcase one aspect of your company that you believe is most important.
Create a compelling headline. Your header is what will entice readers to visit your website or specialized landing page.
The nice thing about Online Ads campaigns is that you can change the budget on a routine basis to see what works the best. Be reasonable about your budget, and consult with an expert if you're unsure what actually works for you.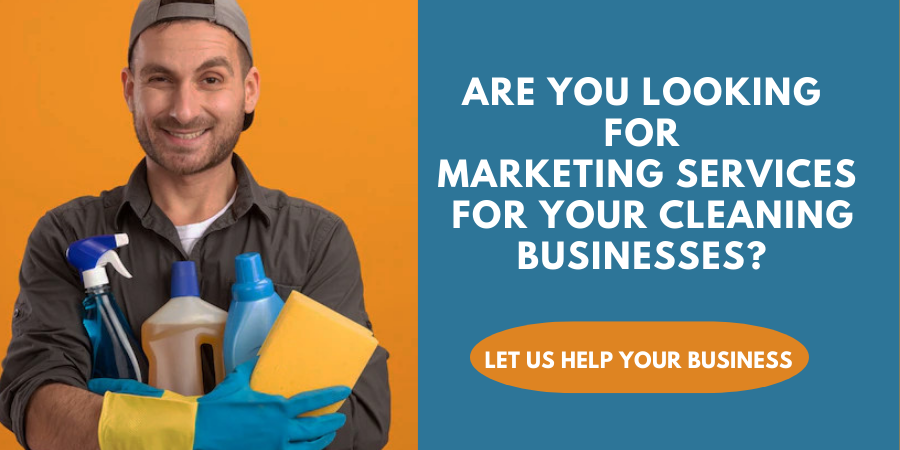 How do make Target Potential Reach out to You Cleaning Services?
First, try to understand your target leads or potential customers of the locality where the business resides. Take time to research and understand their needs.
Now, curate content that addresses the customers' pain points and their probable solutions. Add keywords that contain the query. Let people know what they want to know!
Post that content on your website, social media, and other marketing channels where you get access to the target audience.
Make people aware of the problems, then introduce them to the solution.
Use effective marketing tricks and communication channels to offer solutions directly to them.
Remember people will only reach out to you when they get the exact solution that helps them to get relief.
Consider hiring an agency that offers digital marketing for cleaning businesses or specifically commercial cleaning SEO services if you want to take your cleaning company's online business to new heights.
TTC provides a full range of online marketing services and has worked with diverse industries.