As customers began to prefer tobacco-free products, vape shops began to spring up all over.
While the smoke and vape sector is gaining popularity, there are certain challenges to starting a business in this area. One challenge you'll have is figuring out how to sell your company online and having a proven vape shop business plan.
Because this sector has so many limitations, you may feel burdened and unclear where to start when it comes to promoting your vape shop.
You don't have to go it alone with your marketing! Numerous vape marketing solutions companies are there doing great jobs and can assist you.
So, take a deep breath and prepare to inhale the following marketing strategy for vape shops in order to increase the web presence of your vape business!
First, let's learn about……
Smoke and Vape Shop Restrictions
Due to tight rules prohibiting the promotion of smoke or vape items, paid advertising is out when it comes to marketing your smoke or vape shop online.
According to Google, "advertising for items designed to resemble tobacco smoking," which includes electronic and herbal cigarettes, are not permitted. Advertisements for cigarettes are, however, illegal.
Tobacco and vape product promotion is also prohibited on social media platforms like Facebook and Instagram.
But don't let this get you down! There are numerous more techniques to keep in mind for digital marketing. Let's take a closer look at each one.
 Use Local Search for Your Vape Shop, Why?
It's critical that your tobacco shop appears in local search results when customers are looking for it online. However, turning up is not the sole requirement.
Make absolutely sure your website is optimized for local traffic and that your products are prominently displayed.
When you work with a vape marketing solutions company , they will construct a microsite, which is a locally optimized version of your present website.
They will help satisfy two audiences – customers and search engines – by using a website service also as part of their  local search strategy.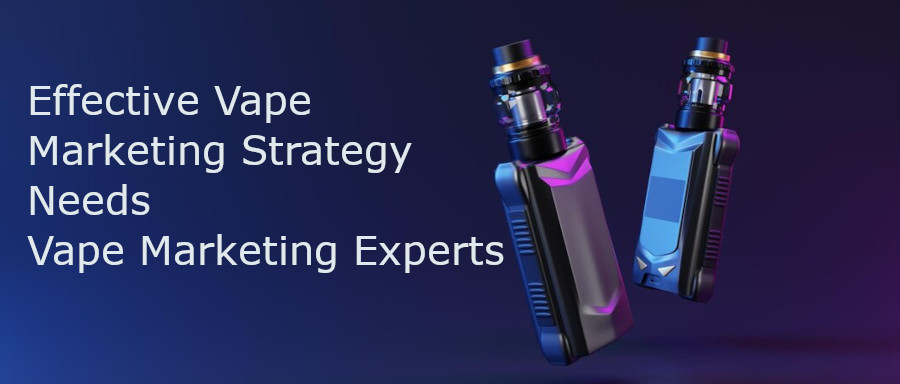 Definitely give social media a shot
Social networking is growing at the same rate as the vape industry. Social media is being used by both consumers and businesses to communicate with one another.
As a smoke or vape store owner, using social media to develop a deep connection with your followers while showing your latest items is one of the most effective marketing techniques.
You may create a visual tale about your items by maintaining a regular social media presence with vape social media marketing. You can not only post photos, but also product videos and go live to keep your followers informed.
Staying up on social media can be difficult, which is why vape marketing solution companies  have a social media presence. They work with you to augment your current efforts and continue to grow your audience.
Also, they can also connect your social channels to your website feed when you combine your social media and local search programmes. In the end, this equals more visibility for your company!
Review marketing
We'd like you to consider something before we begin. Do you go back to a business or a store that you really like? Your response is most likely yes.
Smoke and vape shops are in the same boat! When a customer discovers a store they enjoy, their loyalty grows dramatically. It's almost as if they become your company's brand ambassador.
Because of their loyalty, customers are more likely to submit comments after visiting your store.
However, please remember that tobacco businesses can be competitive. When a customer becomes loyal, they are unlikely to shop elsewhere. The difficult part is getting a new customer into the sales process in the first place.
Get proper marketing strategy from vape shops from experts who can send review requests to your consumers via a review campaign.
The more positive ratings you have, the easier it is for other customers to choose your firm during the customer journey.
Last Thoughts
Your smoke or vape shop's marketing is not really tough. Although there are challenges ahead, never let them deter you!
Your vape shop's internet visibility will improve if you have a complete approach that incorporates local search, social media, and review marketing.
It is difficult to manage vape  business while also managing your marketing, so it's better to have experts take control of digital marketing for you!
Summary
Vape industry is booming and is getting overcrowded with competitors. To stand out strong amidst this industry you need to follow the right vape marketing strategies. Speaking of vape shop marketing, there are many strategies but the 3 most important that your vape shop needs at all cost are covered here. To find out more, read on!
Vape SEO Faqs
To Make a Vape shop successful, make sure to know your target well, and don't forget to highlight and promote your Vape brand's unique selling points.
Try influencer marketing, and referral programs, and offer promotional deals and discounts to increase sales of your Vape sales.