Social media marketing is one of the fastest ways to reach target customers because '60% of the world's population uses social media.'[Smart insights]. Even if you are dealing with Cannabis products, promoting your products using these social platforms is essential.
Twitter is one of the most promising social media platforms. As '54% of Twitter's audience is more likely to purchase new products.'[Social Pilot]. Can you run Cannabis ads on Twitter? Let's know more about how to promote cannabis products on Twitter!
What are the Updates on Relaxing the Rules of Cannabis Ads Policy On Twitter?
o Twitter has relaxed the Cannabis ads policy for paid advertising for the promotion of cannabis products.
o Twitter is now allowing the promotion of CBC, THC, and cannabis-related products and services.
o Certified advertisers can promote 'packaged cannabis products in ad creative.'
o The certified advertisers 'may also continue responsibly linking to their owned and operated web pages and e-commerce experiences for CBD, THC, and cannabis-related products and services.'[ Twitter cannabis ad policy changes]
o Twitter has 'made some changes for medical licensees and opened up additional recreational markets (some restrictions apply).' [Twitter cannabis ad policy changes]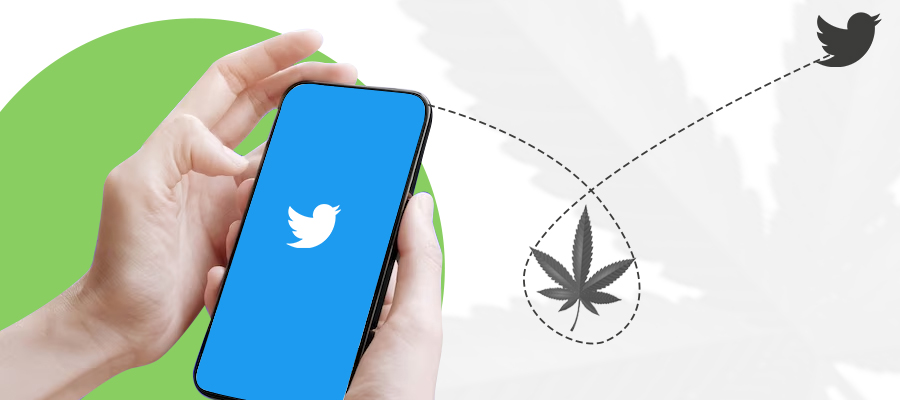 What Are the Rules For Twitter Cannabis Now?
Canada
Twitter now allows advertisers to promote CBD brands on Twitter with some limitations and strict restrictions.
However, those advertisers must possess a jurisdiction-specific license from Health Canada and pre-permission from Twitter.
They are allowed to promote only informational or brand-specific content.
Advertisers should comply with all regulations and rules, and general obligations that restrict the promotion of cannabis content. [Refer Twitters Cannabis Ads Policy]
United States
Twitter has now permitted authorized advertisers to promote cannabis, CBD, and cannabinoid ads in the territory of the United States. However, some rules, regulations, and advertising guidelines and restrictions are applicable.
5 Tips To Promote CBD Products On Twitter
Be aware of the Legal Aspects
While promoting hemp products using Twitter, make sure to be updated with the CBD marketing local laws and regulations of the target territories. Ensure to be well aware of the CBD marketing policy of Twitter and compliant with the law.
Share engaging, informational, and brand-specific content
As per Twitter's policy, it allows the promotion of CBD products on Twitter by using informational and brand-specific content only. See this opportunity to expand your reach and earn the trust of your users. Share new updates, industry-specific information, product reviews, usage tips, and other valuable data through posting engaging marketing content.
Share visual content and leverage the power of Graphical elements
Make your cannabis ads more engaging with high-quality images, videos, gifs, and infographics. It will captivate users and drive attention from the target audience easily. It will elevate the brand experience. It will also help you to capture an authoritative position in the market.
Use Geo-targeting ads to get more views from the right targets
Optimize your Cannabis advertising on Twitter to target specific demography effectively with Geo-targeting techniques. This will show your ads to your target audiences and make you able to extend your reach most efficiently.
Monitor And Analyse the Ads
Track the performance of your Twitter account with Twitter analytics and monitor its trend regularly. This will give insights on how to plan your future, campaigns on advertising of CBD products and strategy.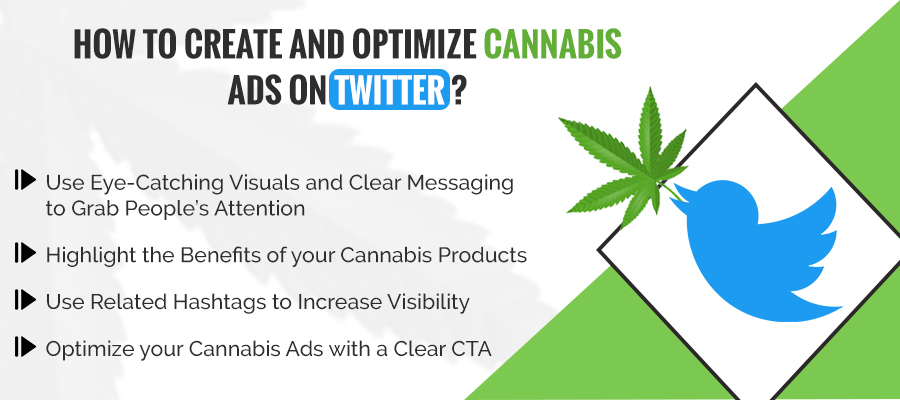 How To Create and Optimize Paid Advertisements of Cannabis Products?
Showcase the benefit clearly
Make sure to highlight the core benefits of your CBD products clearly; so that customers can understand their usage and identify when they need it.
Use hashtags
Whether it's a paid ad or an organic post, using CBD hashtags is recommended in both cases. It will increase your post with better reach and improve the chance of conversions.
Include CTAs
Incorporate a valuable and relevant CTA to all posts to encourage buyers of the demography where CBD or hemp products are legally accepted.
Don't share any misleading information
Normalize CBD and make sure to share all relevant information. It will turn the whole process streamlined and transparent.
Promote user-generated content
Make sure to post only customer-focused content that makes your customers informed about all aspects of CBD products.
Bottom-line
Promoting hemp products on Twitter is a challenge in case you are not making any well-informed decisions. This can make things wrong as it subjects to many obligations both from the Twitter platform and local laws. Make sure to be aware of the legal landscapes and updated with the new trends and regulations. Our CBD Digital Marketing services can help you to take the best decision with strong and fool proof latest CBD marketing strategy!
Promote Cannabis on Twitter FAQs
Yes, Twitter now allows promotional Cannabis ads with respect to the strict rules of its Cannabis ad policy.
Run ads only for the approved demographics and Include CTAs, proven claims, and a clear message in your Cannabis ads.