In the real estate industry, whether you are an established realtor or a newcomer, you face the same pressure of beating the competition. Not getting enough sales leads is one of the greatest concerns for realtors- are you facing the same trouble? Real estate digital marketing services can mitigate the risk from these uncertainties if one can manage them efficiently. We have come up here with some essential tips for you if you want to start from scratch on this ground!
What is digital marketing in real estate?
Real estate digital marketing strategies are the customized version of digital marketing tricks for a real estate brand. That means, Using PPC, SEO, email marketing, content marketing, and Social media marketing in a customized way to promote the realtors' business.
How do Real estate digital marketing services help?
•    Share your brand's story directly with the end buyers in an impressive way.
•    Boost interest among the potential mass.
•    Generate quality leads.
How to use digital marketing in real estate?
If you have a limitation of funds, start with posting authentic content on social media profiles. There are various ways to market online- including PPC ads, SEO, email marketing content, social media posts, and more. You can take help from real estate digital marketing services-it's easily!  Want to start in the right direction? Here is the ultimate guide to starting with a bang-on performance! Have a look at the following points-
•    Search Engine Optimization (SEO)
SEO is one of the most vital digital marketing strategies. Search engine marketing involves several activities to boost the rank of your brand in the search results on search engines regarding real estate business queries, which is also called organic ranking. Follow these steps in the case of SEO for real estate –
o    Make Keyword research according to your target audience.
o    Plan keywords using SEO tools.
o    Utilize the keywords according to their relevance.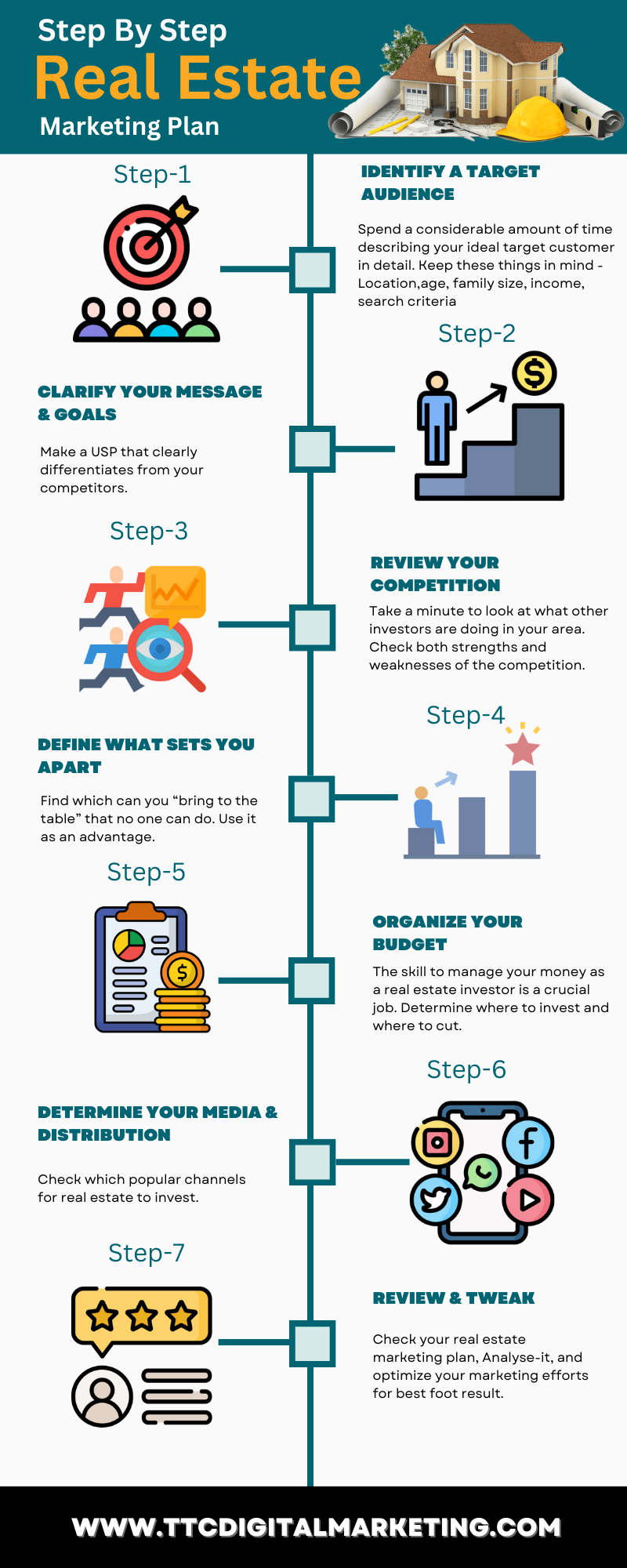 What are the best SEO (search engine optimization) techniques for the real estate industry?
o    Use HD quality photos on your website as HD photos make your website user-friendly, and Search engines rank the user-friendly websites higher.
o    Build up a website that is responsive both on desktop and mobile.
o    Post a virtual tour video or 360-degree video to connect with your audience in better ways. You can add this video to listings – it will positively impact your brand's local SEO rank.
Pro tip
While doing keyword research try to find the best real estate SEO keywords for 2023 to drive more web traffic and quality leads.
How can I find an SEO company specialized in real estate?
    Trust those who make the real promise.
    Checks can realise your goal at your budget.
    Go with the SEO firm that share metrics that you understand.
    Check out their clients' sites.
•    Pay per click
Pay-per-click is a paid digital ad campaign and a sale-boosting digital tool. Users can give support for the SEO method with PPC. Well-managed PPC+SEO combination can give your brand's rank a punching push to go high on the Search Engine Result Page (SERP). Google ads are the most common and popular type of PPC ad. For a PPC ad campaign, a company pay whenever its ad gets a click from the users. One can boost online visibility in the short run with the Pay Per Click techniques.
Types of PPC ads-
o    Search ads
It's an auction-based PPC ad run on Google. Let's take an example when a target audience searches on Google about Real Estate Companies or real estate services, Google will show your brand as ads. Now, in return for that, you have to pay a bidding amount to Google.
o    Display ads
With display ads, you can retarget the missed leads as display ads target those who have already shown interest in your websites. These ads are displayed on the other websites and platforms that the target audiences visit after visiting your site.
o    Shopping ads
In Google you may see the shopping tabs; here Google shows the shopping ads. These ads are just like search ads, but these ads display the products' pictures, prices, and a description.
o    Remarketing ads
This is a remarketing technique to the target audience who have already visited your websites. Remarketing ads boost the conversion rate by turning leads into actual sales.
o    Video ads
Promote your real estate brand with Video ads on YouTube and other video platforms. It's a great strategy for digital marketing for estate agents.
•    Email marketing
An email marketing campaign is one of the oldest and most effective digital marketing techniques. From newsletter to customized email copy- this consists of several strategies. Make your existing customers feel more connected by keeping them updated with current offers, discounts, and services through an email marketing campaign.
Pro tips on email marketing to make the existing customers purchase again from you-
o    Send customized emails regularly to nurture the leads.
o    Make sure to include a quality Call To Action ( CTA).
o    Try to give a personalized experience through the email market campaign.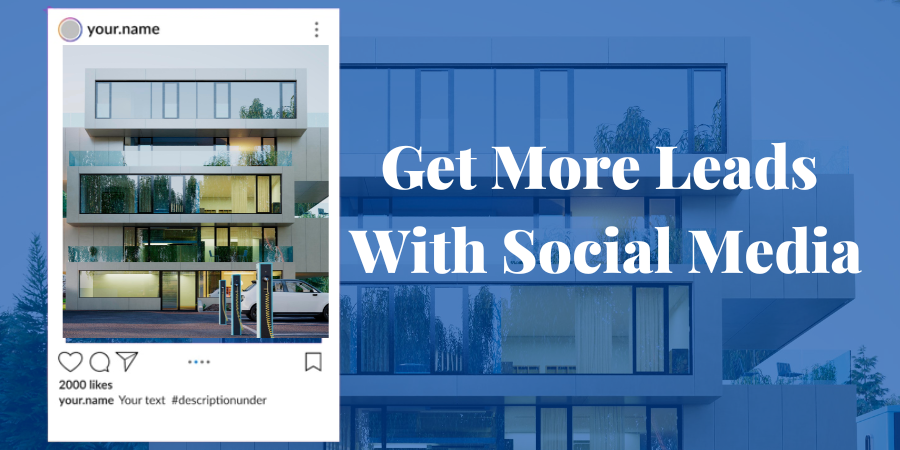 •    Social media marketing
It's a new gen marketing technique and a new inclusion in Social media marketing. If you can handle the social media accounts is a tricky way- all the potential leads will be yours! Social medial platforms open unlimited opportunities for realtors to stay connected with existing buyers, and potential customers and earn the quality lead.
Pro Tips on Real estate social media marketing
o    Instagram
The best platform to connect with wealthy customers or audiences having good aesthetic senses
o    Facebook
The Facebook business account offers the best features to promote your real estate brand to mass where you can earn genuine leads.
o    LinkedIn
Here you can connect with potential B2B clients like professionals, industry leaders, and more.
Read: Social Media Mistakes to avoid 
Why should realtors invest on digital marketing?
o    Why SEO?
•    53 % of traffic comes from organic searches.
•    68% of online experiences begin with a Search engine
o    Why PPC?
•    Search ads increase 80% of brand awareness
•    70% of consumers are more likely to buy products after getting convinced by retargeting approach.
o    Why social media marketing?
•    Social media users increased by 4.2 % in 2022.
•    Over 93% of internet users are social media users.
Why choose the digital route?
•    63 % of shopping begins online.
•    98 % of the time, people search for real estate property online.
Key takeaway:
Have you found these a little complex? That's pretty obvious!  Digital marketing needs experience and expertise to work really! Do you want the best real estate digital marketing services? Visit us now!