The cleaning industry is a competitive market that sees frequent entry and exit of firms every day. A cleaning business is highly competitive, so you have to deal with a lot of competitive pressure. Beat the competition by generating higher leads to design a website for cleaning services. Take your brand one step ahead of the competition by making your customers aware of your brand and generating traffic and leads.
A website design process involves some steps that require prior knowledge and expertise. Choose to get an effective, simple, and high-quality website for your cleaning business. How to build a cleaning service website which is simple? Find below the most effective solution!
Why a cleaning company needs a website?
·        Develop your business by attracting new clients and keeping connections with existing one
Having a website boost local search ranking. By getting a best cleaning website, you can connect with potential customers who are looking for cleaning solutions. As when they search cleaning company near me, your website will appear on the search. It helps in business development and generating higher sales volume.
·        Promote your business
 Your brand can be promoted easily across multiple digital channels with an effective cleaning company website. You will be able to implement the digital marketing strategy also. A good website provides a wide range of marketing tools that can help a cleaning company save money on advertising and return a higher return on investment.
·        Boost brand credibility
 When you maintain a website for your cleaning company, you give yourself a scope to boost the brand's credibility in the cleaning industry. Having a website makes you a legitimate participant in the cleaning market for potential customers.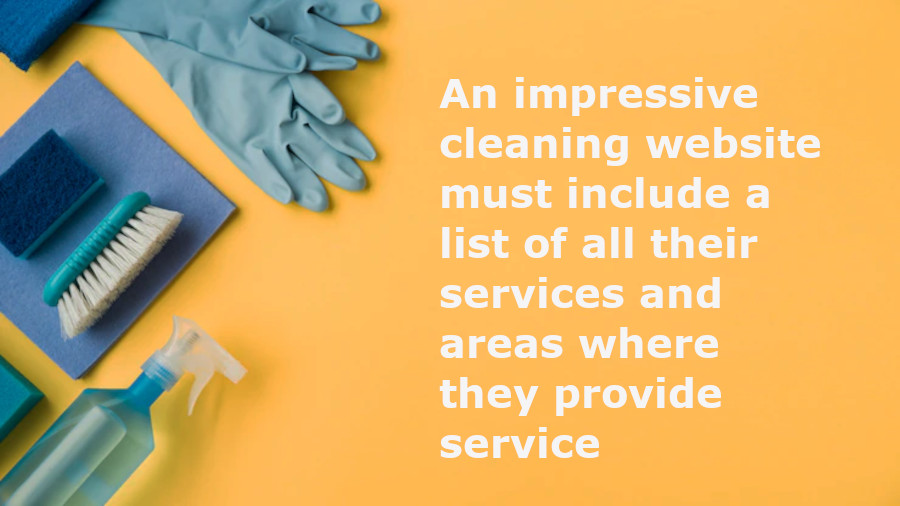 What should you put on the cleaning company's website?
·        List down your services
Make a detailed list of all your cleaning services and give all the relevant links to it. It reflects a sincere impression of your brand to potential customers when they visit your website for the first time. Also, mention your charges, discounts, and extra charges if any, to keep it transparent.
·        Your work process
Provide all the work details and processes of your cleaning brands. Represent it with a diagram, chart, or in an easy-to-understand way.
·        Booking process
 Mention the working hour, off days and booking process clearly on your cleaning company website. Keep tracking system on all booking details to gain customers' faith and enhance the sale. Don't forget to mention the details of the online booking process.
·        Mention 'About us'
Why should the customers choose you? What are the specialties of your services? Mention everything in the 'About us' section. It will be better if you make a separate section for the about us page.
Mention the following details there-
Mention your experience
Introduce your team
Your brands goal etc.
Your areas of serving.
·        Contact details
 Provide phone numbers, email IDs, query forms, contact forms or and chatbots on the brand's website. Provide links to add customers to your email newsletter sign-up and blog post to stay updated about your new services, benefits, etc.
 Others details:
 Provide link to your social media profiles.
 Post the testimonials.
 Post blogs and Frequently asked questions
 Don't forget to put Call to action (CTA).
How to build a simple cleaning website?
·        Buy a domain name
  Get help from a domain name registry and start buying a domain name. Once you get an appropriate domain name, make it registered under your business name.
·        Choose a platform
Take help from efficient website builder platforms. Before choosing the appropriate one, make some research. Pick up the best website builder to get a professional look for your cleaning company website.
·        Choose a theme
 Choose a cleaning website templates to plug and play. Just add personalized color, design, and website copy to these readymade designs. Enjoy a readymade website to promote your cleaning brand.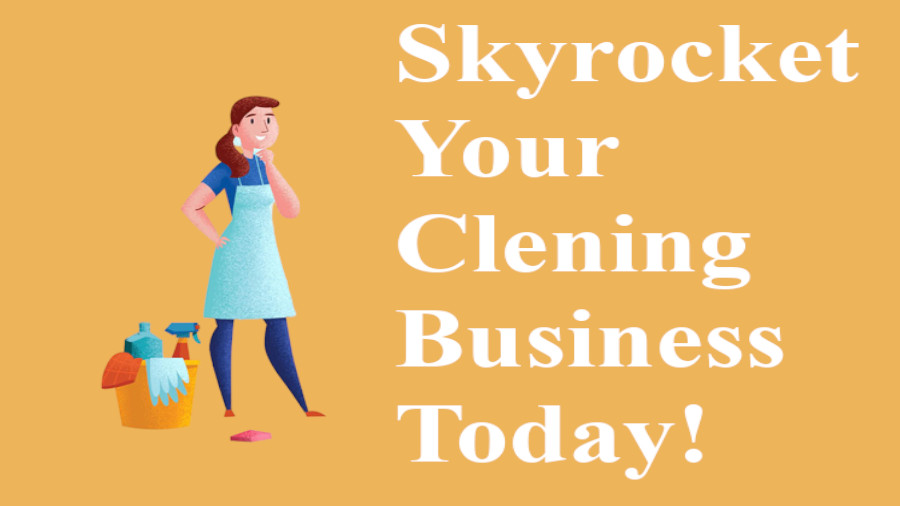 ·        Post creative content
  Blog, post infographics, and upload videos to your website. It will help your customer to connect with your brand easily.
Don't forget to emphasize the following details-
Quality of image
Size
Content quality
Creativity
Colors
·        Make it SEO optimized
Make your cleaning website SEO optimized and enhance your website's visibility on the organic search. Website builders use built-in SEO tools; use it to get higher traffic, and leads. Implement SEO keywords on web copy, blogs, headers, meta tags, and the FAQs section.
·        Launch a site
It's now time to go live with your cleaning website once you've completed the above steps. Make sure your site is linked to the social media pages of your cleaning company.
Have you still stuck with the question 'how To market a cleaning business?' Don't waste your time investing in the incorrect investment. Hire one of the most efficient cleaning company website developers now without a second thought!
How Should Your Cleaning Website Look?
Consider these below-mentioned things while designing a website for your cleaning company to turn it into a relevant help book for your target customers.
•    A comprehensive list of services and expertise
•    List of locations where you operate the cleaning business
•    Images that make perspective about your services
•    Include an about us section and provide a brief introduction about your business
•    Provide your team's details
•    Provide contact information and online booking details
•    Include clients' testimonials
•    Integrate a Chabot or a number or email address for inquiry
•    Add a FAQ section that enriches the user experience
•    Keep a page for a blog post or news relating to the advancement of cleaning services
•    Create an inquiry form
•    Keep a section to update users on current discounts and offers or any coupons.
Which Website Builders Should You Use For a Cleaning Website?
Having the plan to build a website for your cleaning business to give it a digital boost in 2023? Then consider the following website builders options-Then consider the following website builders options-
o    Wix
o    Hostinger website builder
o    WordPress
How to Make a Cleaning Website Ready to Receive Calls from local customers?
o    Link your website with the Google business profile.
o    Add location pages on your website that properly show your service areas
o    Add relevant local queries to your FAQ sections
o    Make your business findable on Google map
o    Earn reviews from local customers in local keywords and showcase them on Google business profiles.
How to Turn a Website Ready to Control the Cost of Operating an Online Cleaning Business?
•    Make your cleaning website SEO friendly to generate higher ROI.
•    Link your website with social media profiles, which will magnet more web traffic and save costs on ads and marketing.
How to Make a Cleaning Website Competition Ready?
•    Put quality Call To Action (CTAs) that intrigue buyers to book a free quote, consult you or schedule an appointment, or share a query at the earliest possible time.
•    Craft the design that showcases your brand online.
•    Boost UX design of the overall website.
•    Build a site that represents your company's professionalism.