Dentists are rapidly realizing the value of online practice promotion. To stay in touch with current patients and draw in new ones, they are revamping their websites.
Some of them are also implementing content marketing techniques to increase social media shares. These inventive marketing initiatives, though, won't be seen if they aren't search engine optimized.
That's where a best dental SEO company extending top-notch dental SEO services, comes into play.
Dental SEO: What is it?
Wondering, what is dental SEO? Well, Dental SEO, also known as SEO for dentists, aims to make a dental practice's website more accessible to users and search engines so that it will show up more frequently in Google, Yahoo!, and Bing search results. The site may need to be optimized to make it more user-friendly for patients, faster, and mobile-friendly.
Dental SEO Works For:
General dentists
Orthodontists
Pediatric dentists
Periodontists
Prosthodontist
Oral surgeons
Endodontists
Why does SEO matter for dentists?
If you're a dentist, SEO marketing may not be top of your list of priority areas. Once more, very little will be able to locate your website without optimization for search engines.
The top five search terms receive 68% of all clicks, according to studies. If the website for your practice receives this kind of ranking, it will result in increased web traffic, indicating early credibility and authority, and inevitably, more patients.
It's also critical to keep in mind that your rivals are probably already spending money on dental SEO.
Even better, if your rivals are already not making investments in dental SEO for their clinics, this is a great chance for you to outperform them and draw in more patients before they even have a chance.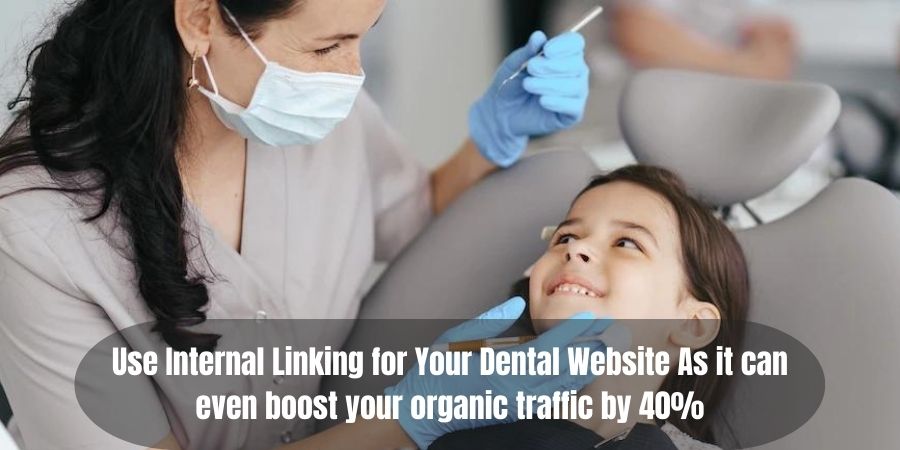 You are aware that your practice is the finest in the area. You can show it with a functional website and strong SEO.
4 Tips to follow for Dental SEO suggested by best digital marketing agencies in India:
Include Relevant Keywords
Yes, potential clients look for dentists, but they also look for particular services, such as bridges and yearly exams for children to teeth whitening.
Long-tail search queries, which contain multiple words, have lower search volumes but frequently have precisely focused traffic that is prepared to transform into actual customers.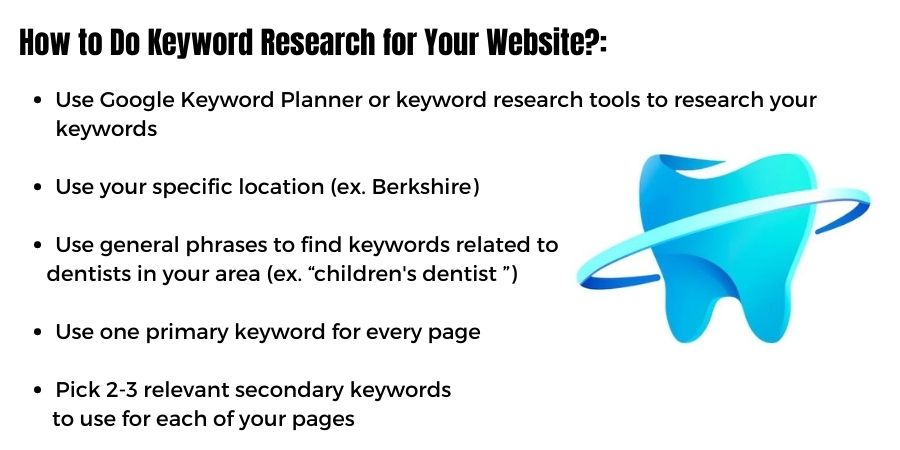 For instance, you could perhaps ensure that your website includes keywords like "dentist in [your city]" or "children's dentist in [your area]," or perhaps even "broken tooth repair in [city], [state]" instead of simply concentrating on optimizing your website for dentists or dental services. These keywords have long tails.
Ensure local search optimization
People seek out regional service providers for health and medical needs. If your local SEO for dentists does not employ local SEO strategies to target particular geographic areas, you are losing out on these best prospects.
Including the names of your town and any nearby towns in the web page copy is the simplest way to boost your outcomes.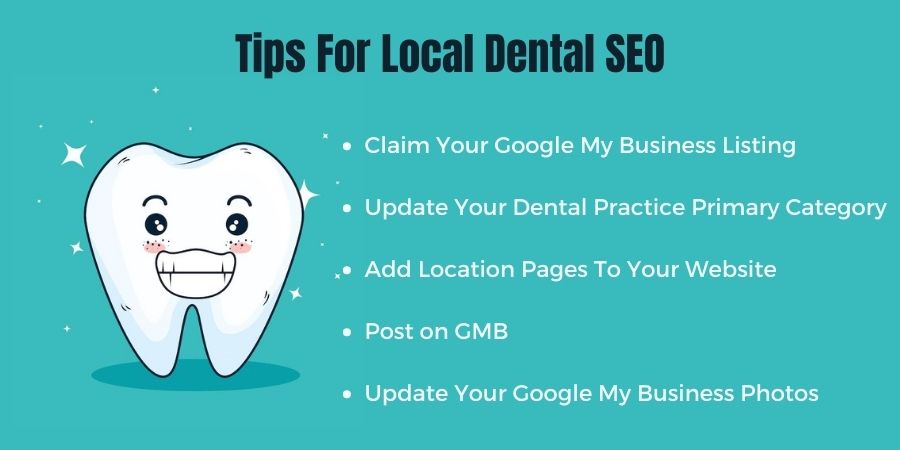 Don't overlook your website's other features, though, besides copywriting. Your page titles and URLs should also contain locations.
To further increase your awareness in local searches, make absolutely sure your company is listed on Google Maps and other local directory websites.
Start Blogging
The ultimate aim of dentist SEO is to boost visibility on search engines in order to draw in more clients. However, that does not imply that they must pay for all of your experience and knowledge.
For an expert dentist, earning money from SEO marketing should be secondary to establishing credibility.
One method for doing that is blogging. Ability to write a blog with advice on dental care will help you draw in readers and potential clients.
Your search rankings will improve as your traffic increases, making you an authoritative source and the top option for people looking for a dental professional in your area.
Build links
Your website's position in search engine results for keywords and phrases associated with your business is influenced by the quantity and quality of links pointing to it. This implies that you must acquire quality backlinks if you want to keep your rankings.
You can achieve this by producing high-quality content and contacting bloggers and influencers in your sector to request their help in sharing it. The best digital marketing services in India make the most of by building links.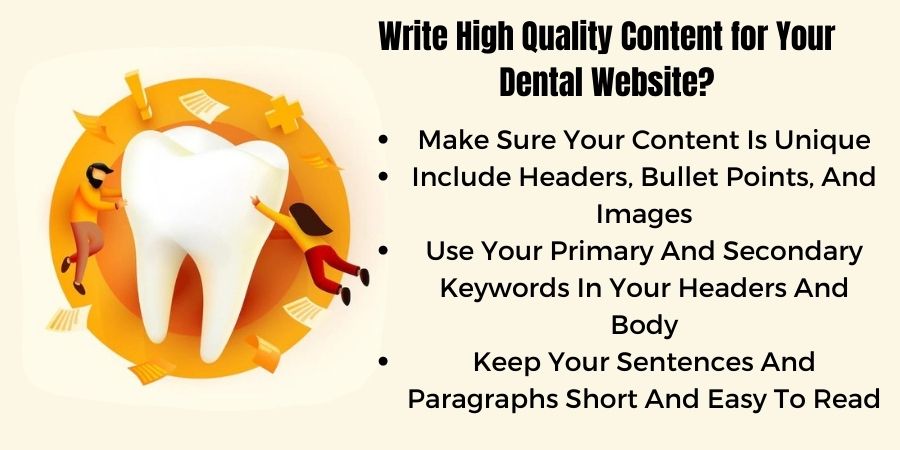 Not only will this improve your search engine rankings, it will also assist you in establishing your dental practice as a market leader.
Links are crucial for dentists' SEO campaigns. They act as a recommendation or seal of approval for the writing your practice produces. That is why links are used by search engines like Google.
FAQS About Dental SEO
How is dental SEO implemented?
In order to boost your website's visibility in pertinent and organic search results, SEO for dental professionals entails optimizing it for both users and search engines. On-page, off-page, and technical strategies like revising title tags, gaining backlinks, and enhancing page speed are all examples of optimization techniques.
How long does dental SEO typically take?
Usually, it takes a minimum of six months for dental search engine optimization to show the results. In some instances, practices will begin to see outcomes in four months, such as a rise in traffic, phone calls, and appointments. As opposed to a short-term strategic plan like pay-per-click, SEO is a longer-term strategy, so this timeframe is normal (PPC).
How much does dental SEO cost?
Dental website SEO costs range from $1500 to $5000 per month on average, depending on a number of variables. The typical hourly rate for a consultant or dental SEO specialist is between $100 and $300.
Why do dentists need digital marketing?
The right strategies of digital marketing tactics help dentists to extend their services. As a cost-effective investment, it gives a high ROI. They can directly approach people in need of medical assistance. Easily make people aware of your specialty, and the facilities you provide to your patients.
How is the ROI for dental SEO determined?
The following equations can be used by your business to determine the return on investment (ROI) from dental SEO:
Cost of Investment / (Gain from Investment – Cost of Investment)
Although you can factor in your rankings in search engines and organic website traffic when calculating your "Gain from Investment" valuation, you'll most frequently use conversions, such as a phone call or the completion of a contact form, because those actions help you achieve your firm's most important objectives.
Summary
Want to learn more about SEO for dentists, the overview of the same, some potential Dental SEO tips, some beginner SEO advice ? To learn more, read this article through to the end.