Local search ranking is crucial to cleaning business success as it helps brands to gain desirable visibility and acceptability form by achieving reach from a targeted demography. It also elevates the acceptability of a brand within a targeted community.
'97% of search engine users search online to find local business' [Web FX]
The cleaning business is a local client-based business. Hence, cleaning brand owners should focus on capturing a position in the locality from the proximity of their operation. Otherwise, they will not be able to achieve growth or expand their business by offering services to more clients. Let's learn all the secrets behind crafting a successful plan of SEO for cleaning business.
What is Local Search Ranking?
Local search ranking refers to the position of a local brand on a search engine result page to the search of target demography. Winning a good rank SERP for a search targeting to specific locality is important for small brands to gain visibility within a local market and credibility within a local community. It also helps local brands to boost their reputation and awareness and attracts new customers from the target mass.
The Importance of Local Search Rankings for Cleaning Businesses
Now consumers trust online reviews and consider recommendations from Google or recognition in the digital world as social proof. Hence, earning visibility on the digital platform is essential for business, as it's not an option.
Consumers rely on search engines whenever they try to find local help or suggestions for local brands or businesses. They just turn their mobile and take a quick search for "nearby" results.
'97% of consumers check a company's online presence before deciding to visit them' [WebFX].
Hence by dominating the local search result, a cleaning brand can improve its visibility among the target customers of its proximity. It will not only attract new customers but also help a brand to achieve a market position in the cleaning industry of a local market. So, how can you achieve this? Let's explore the world of local SEO tactics for cleaning company.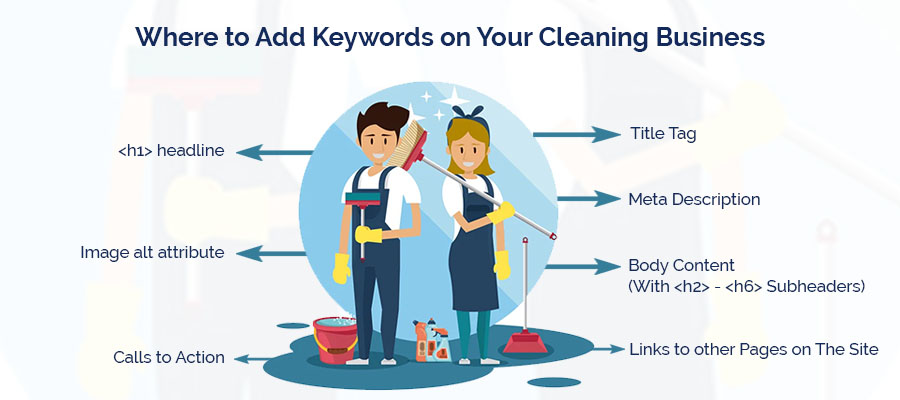 Understanding Local SEO for Cleaning Businesses
The process of Local SEO for cleaning companies helps cleaning brands optimize their cleaning business website to local users of targeted demography. So that when someone searches for cleaning services in that locality, Google will showcase those brands as potential cleaning solution providers.
Google determines the local ranking based on various factors. Those factors are collectively referred to as local SEO tactics. Optimizing a local business's online presence with SEO for cleaning business will boost the chance of appearing at the top of the SERP of local search.
Getting a good rank on local ranking will improve the chance of getting more leads on website and more calls from potential customers with service enquiry.
The Most Vital Tips To Boost Local Rankings For Cleaning Companies
Conducting keyword Research for Local Search Optimization
Finding out the top keywords for a cleaning business is the crucial and basic step of the Local SEO optimization process. Understand your target customers' search intent to find out the local keywords. Try to get those keywords that your potential clients use to find your niche of services.
You should use both competitive keywords like 'best cleaning services in LA' and long tail keywords like 'affordable Kitchen floor cleaning services in LA' and so on. Whatever be the type of your keywords, try to match those specific keywords to your local clients' queries.
Use tools like Google Keyword Planner, SEMrush, or Ahrefs, to find potential keywords according to your target audience. Then finalize the cleaning keyword list after analyzing their search volume and difficulty level.
On-Page Optimization for Local Search Rankings
On-page optimization is another step to achieve a height of success from local SEO marketing efforts. On-page optimization allows optimizing of all on-page elements of a website to align with the queries of local target customers. With On-page optimization, you can signal to Google that your cleaning website is a helpful resource for the queries of your target users.
Optimization of the website content, URLs, Meta details, heading, and internal link building are some of the core processes of the on-page optimization method.
Include keywords to all Meta details and craft compelling Meta tags and Meta descriptions for all web pages. Make sure they are indicating the webpage content summary and very unique.
Optimize your website's image alt tags by incorporating the target keywords in the alt tags of all images.
Improve all URL structure of your webpages and service by placing keywords and making them unique to turn them into indicative website content summaries.
Do focus on the internal link-building strategy within your website to improve the site structure. It will improve the website's crawlability and help Google to index all of the webpages faster.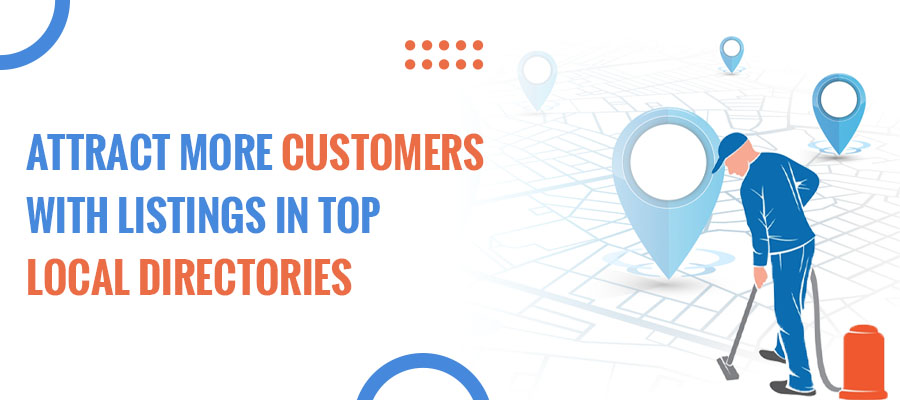 Building Local Citations and Online Reviews
Local citations are online mentions of your business's name, address, and phone number (NAP) on other websites, directories, and platforms. It improves credibility and plays a crucial role in boosting rank on the local search result page.
Mention your NAP on popular directories by listing your business on platforms like Yelp, Yellow Pages, Angie's List, and Facebook. Make sure the details of NAP are consistent across all online platforms.
Ask your customers to leave reviews on all profiles and review and reply to all of them properly. This approach will showcase that you value your customers' onions.
Optimizing Google Business Profile for Local Search
Setting up an account with Google Business is one of the most crucial steps to gaining a high local rank from Google. It is a free platform from Google that helps local businesses to promote and manage their marketing activity with Google. In other words, it helps local businesses to grow and achieve success.
Opening a Google business profile is not enough; you have to optimize by following Google algorithms. Start with the GMB verification process and then make all information up-to-date and consistent.
Next, add photos and videos relating to your cleaning business that showcase your quality of work, cleaning processes, advancement of technology, and the identity of your team.
Include the local target keyword in the description of those photos, videos, and file names. Ask your customers to leave Google reviews on your Google profile to boost your cleaning services' credibility.
Take advance of the Google post by posting content on the latest updates or any relevant details to boost the visibility.
Also Read: Optimize Google My Business Page
Creating Localized Content for your Cleaning Business Website
Content optimization for local customers is another excellent local SEO strategy for cleaning websites. Create website content focused on the local customers' pain points and queries. It will increase the chances of getting more reach by grabbing the attention of new audiences. It will also engage users with the brand's content.
Pro tips for creating locally optimized content for cleaning services
Create content for location-specific services pages or landing pages.
Mention the names of target cities or demographies
in the website content.
Optimize their page title and heading meta details with local target keywords.
Create blog posts and videos based on common queries of your target audience.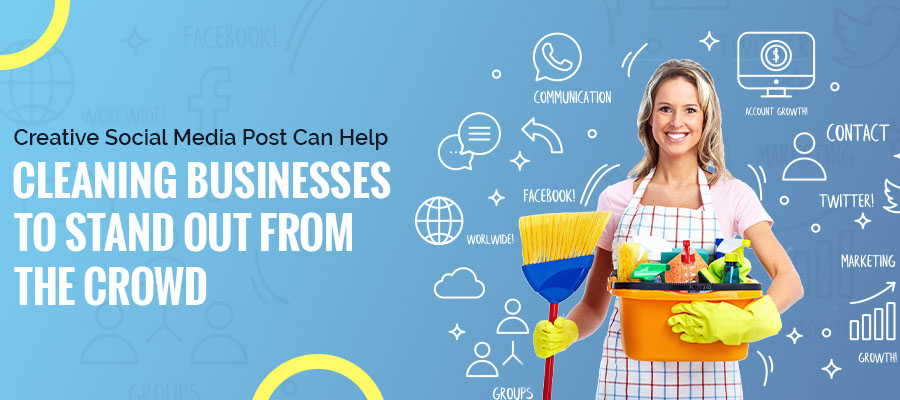 Leveraging social media for local search visibility
Social media marketing has become one of the effective ways to interact with your target users. It helps brands for letting them create an efficient channel of communication. By using some effective social media marketing techniques, you can boost your local SEO for cleaning business rankings.
Firstly, optimize your social media profiles using relatable local terms and mentioning your NAP same as the Google business profile and other citations. Then, link your dedicated local services pages to your social media profiles. Last but not least, start engaging your audience by posting localized content and one-to-one reply.
Also Read: Social media management 101
Use Geo-Targeted Ads
Start geo-targeting ads on both social media and as part of your local PPC strategy. This will help your cleaning brand to get reach target customers faster. It allows you to recover the missed leads and promote your business on the local market faster.
Participate in the events of local online communities and groups
Start collaborating and presenting your cleaning brands at the events of local communities and target groups. Conduct online events, present in person at local events, and offer free giveaways and gifts for your brand's promotion. By doing so, you will be able to achieve an authoritative position and earn trust in the local market.
Monitoring and Measuring Local Search Performance
Continuous tracking and monitoring of the performance will improve the effectiveness of existing strategies of local SEO tactics. Hence, start measuring KPIs to track the performance of the local listings. Measure clicks, impressions, and actions.
Measure website traffic with Google Analytics and keep the focus on user behaviour. Start tracking whether the blog post is gaining views and engaging readers. This will give you insights and indicate the pages which need to be optimized. It lets you analyse the source of leads also.
Use Yext, which will help you to manage citation and reputation management and monitor reviews of different sites. The tools like Aherf, Semrush, Google search console, and Uber Suggest will let you control the overall Local SEO strategy management and control. Rely on cleaning company SEO services for more insights!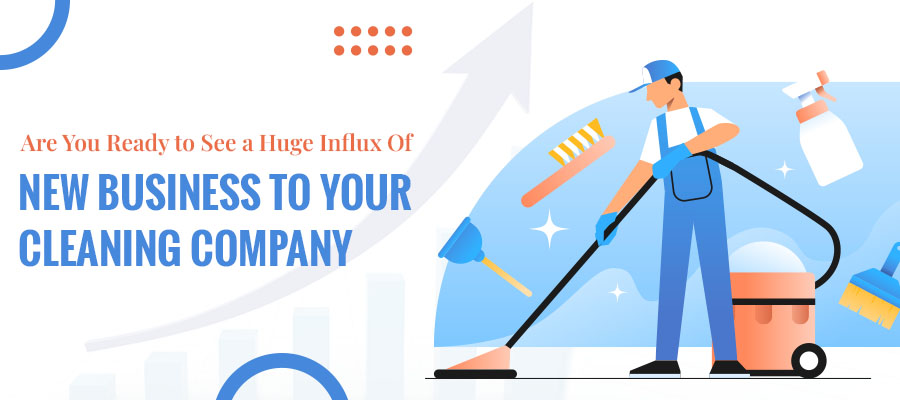 Conclusion and Key Takeaways
Local SEO is a scientific and logical tactic in online marketing to establish an authoritative position in a local target market for a brand. Hence, this process must go through several stages and trial and error methods. It takes time but once it starts showing its effect there is no looking back for the brands. Let us help you with our cleaning SEO services if you are new to this world, Contact Now!
Local SEO For Cleaning Business Faqs
Optimize your Google My Business profile for local search. Promote consistent NAP information across all listings. Use localized content to improve your presence on social media and ask for online reviews from local customers.
Try geo-targeted ads with Google, YouTube, Facebook, and Instagram. Use local SEO optimization techniques to optimize your brand's relevance for local search.