Do you run a cleaning business and want to get more customers from your demography? You should consider Google ads for cleaning business. This paid digital ad strategy shows the immediate result on the search engine ranking page.
Google ads boost your brand awareness in target demography and elevate targeted web traffic immediately. It works best for small companies and local brands as it elevates brand visibility and leads instantly. It also provides wide reach to small companies as Google ads reach over 90% of internet users across the globe.
So, how can you use a Google ad campaign to promote your cleaning services? In this article, we will take you through all the considerable points. So, let's start!
Google Ads for Cleaning Business: An Overview
What is Google Ads for Cleaning Business?
Google says 'Google Ads is Google's online advertising program. Through Google Ads, you can create online ads to reach people exactly when they're interested in the products and services that you offer.'
Google Ads for cleaning business refers to running Google ads to reach potential customers for you cleaning services. It will help you reach out to those in your target demographic who are looking for cleaning services.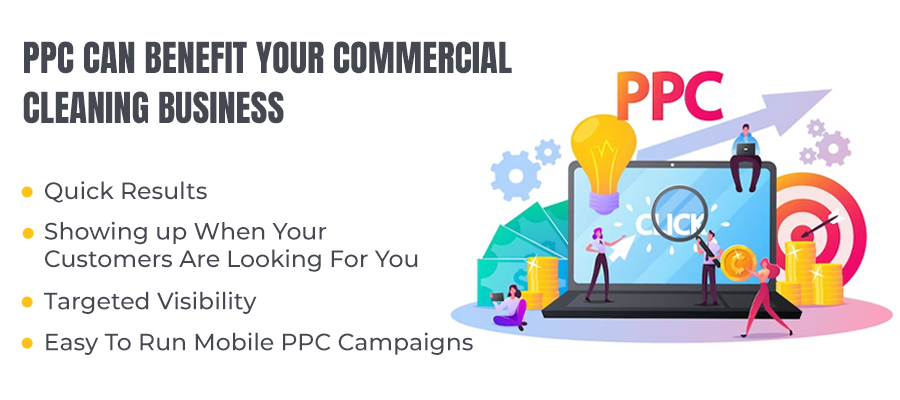 Why Use Google Ads for Cleaning Business?
Micro Targeting Ads
Target marketing is the best marketing technique for local businesses. Google ads allow business in micro-targeting. Hence, as a cleaning service owner, you should consider Google ads.
With Google Ads, you can get ad locations, Ad devices, and micro-groups of consumers. It offers higher ROI from ad spending for local businesses.
Control on Ad Spending
Google provides complete freedom on ad spending. That means you can spend any amount as advertisement expenses with any minimum limit. It provides great control over ad costs and an effective ad spending strategy.
The best part of Google ads campaigns is you pay when your ad gets clicks from users. So, you pay only for leads, not for ads.
Easy To Manage Campaign
You can manage multiple campaigns and measure the success of campaigns easily with Google ad tools. That is why, Google ads are a cost-effective marketing strategy for local and small brands.
You can track the performance of your Google ads campaigns for cleaning services using analytical tools. It will provide valuable customer data on app downloads consumer behavior, and service requests. It will also give you insights to improve the strategy of current and upcoming ad campaigns.
The best part is, that you can keep track of multiple Google ad accounts using My Client Centers (MCC account). It's desktop app-Google ad Editor will let you manage your Google ads account offline.
It's a Flexible Ad Platform
Google Ads is a flexible marketing platform that provides users with complete freedom of choice. Local service providers like you can set up highly customized ad campaigns with Google adaptable to target devices.
All types of budgets and platforms suit Google ads. That is why, all small and local services should try this amazing platform to drive targeted traffic.
Read Also: Image SEO Optimization Strategy For A Cleaning Website
Offer Immediate Visibility
Google Ads is a PPC ad model. Hence, it does not make you wait to receive a good rank on SERP, unlike SEO. It happens immediately once you start running ads. It makes your website appear at the top of the search results. Hence, it elevates your brand visibility.
So, when your target users will search the targeted search terms on Google, they will your website at the top. That means it will boost the possibility of getting clicks on the website.
Faster Local Reach
Google Ads appear only to target customers from a targeted demography. It helps brands to reach local customers faster. That is how cleaning service ad with Google boosts the relevance of brands. It also helps a cleaning brand to expand business in its vicinity.
Faster Reach On Multiple Platforms
Google Ads offers multi-platform campaigns as Google Ads is visible on multiple platforms. It includes YouTube, Google.com, Google Maps, and the platforms that are Google's partners. As a result, when people will search your target keyword on these platforms; they will find your ad.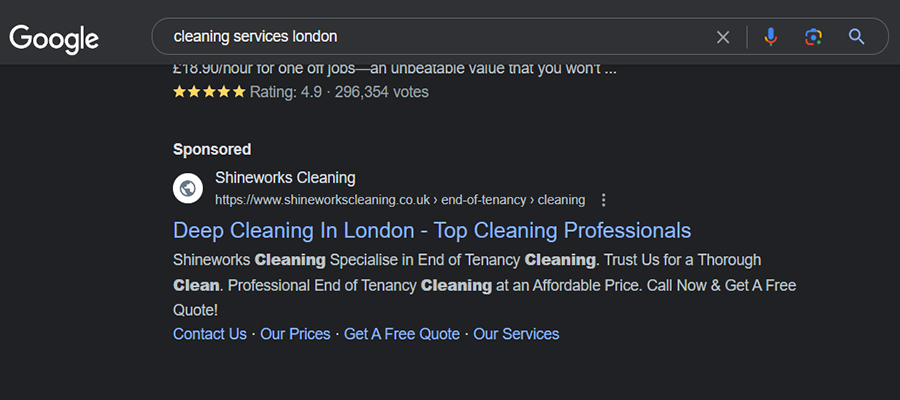 How Do I Set up a Google Ads Campaign for a Cleaning Business?
 Here is an easy to follow guide to start Google Ad for cleaning business:
Choose and Set Your Targeting
To achieve success with Google advertisement, you have to set and clearly segregate your targets. Here target means, your targeted customer group, locations, devices, language, and other relevant sections.
Always target most nearby areas of your business vicinity to get quality leads. As you neighborhood will be the best audiences for Google ads cleaning business. However, if your target market is competitive then you will have to spend some extra bucks to compete.
So, if possible choose a location where the population is high but the competition is low.
Pro Tips
Spend some time on market research
Try to promote your service in a less competitive category
Target customers in small groups belong to various categories.
Make Your Google Ad Spend Budget
In terms of ROI, Google Ads offers the best ROIs to local service providers. Hence, whatever you spend on Google ads, will result in a prudent investment for your cleaning company. So, that is why you need a separate budget for Google ad spend.
Google targets only potential leads in your targeted area. It makes ads appear in front of an audience who are actively searching for cleaning services. So, that is why you need to set a budget for your daily spending and determine the number of keywords and bid amount.
Starting with $20 -$25 CPC will be more than enough to start your Google campaign for your clearing services
Learn The Basics Of Google Ad Campaigns
Target Keywords
Keywords are types of search terms or phrases. Your target customers type these terms or queries to find solutions on Google. So, you have to find a list of your targeted keywords while setting up the promotional campaign.
Bid
It is actually like traditional bidding money. That means the maximum amount you want to pay for each click.
Quality Score
The quality score indicates the overall quality of your keywords, landing page, and Ad quality. A high-quality score indicates high relevance and usability to target users.
Ad Rank
The ad rank decides where your ad will show up. It depends on the quality score and the bid amount of your cleaning service advertisement.
CPC (Cost Per Click)
CPC refers to the amount that you have to pay on receiving each click on your Google ads for cleaning business. What Does CPC depend on? It depends on keywords, industries, competitiveness, and your maximum bid amount.
Keyword Match Types
It's a setting option on Google Ads to further filter and get hyper-targeting Keywords.
Broad Match (Default)
Broad match keyword is a very important feature. It will show up your cleaning service advertisement with respect to relevant search terms. That means this default setting shows your ads to a broader mass who can be your potential customers.
For example
Let's say, you offer pressure washing services. So, if your target keyword is 'pressure washing', its broad match is power washing service, pressure cleaning, exterior surface cleaning, and so on.
Phrase match
It will show your ad on the search results of the term that implies the meaning of your targeted keywords.
Let's take the previous example, then the phrase match will be power washing for homes, pressure washing in [city], etc.
Exact match
This setting will show you a cleaning service ad with respect to search terms that share the same search meaning or intent.
In case we follow the same example, then its exact match will be Pressure washing in [location], commercial pressure cleaning services, etc.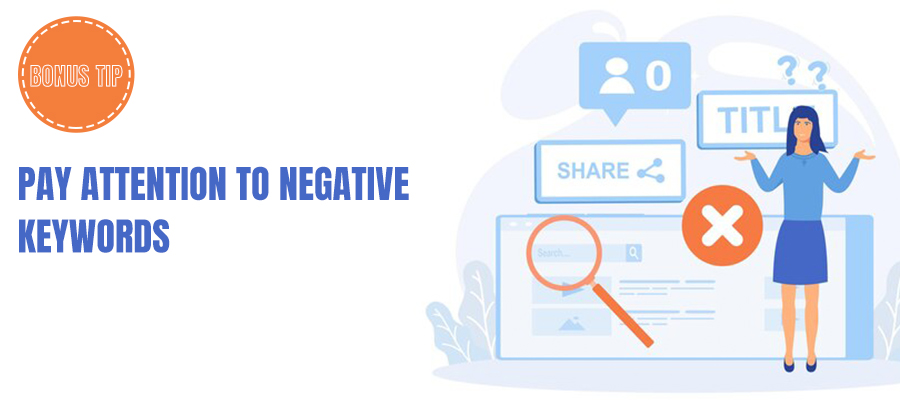 Negative keywords
This setting will restrict your ads to showcase with respect to some of the irrelevant keywords. Implementing these keywords will save you CPC money and improve ROIs.
In the case of the previous example, the negative keywords will be DIY pressure washing, pressure washing tips, pressure washing tools, etc.
Implement The Follow Up System
It is crucial to get a follow-up system to handle leads. Once you start receiving leads, you must handle them tactically.
So, that is why you have to plan the complete road map according to CTA on the cleaning website. For instance, If your CTA is to book a free demo, then
appoint an assistant to deal with these requests.
If you don't know how to start, you can take the help of our cleaning company PPC agency. We can offer an effective follow-up plan for your services.
Set Up and Organize Your Google Accounts
Set up Your Google account and structure the account similarly to your cleaning website. Now set up your Google AdWords group for cleaning services and ad campaigns.
For example, let's take our previous example, that you run a pressure washing service business. So, how can you set the campaign?
Campaign 1– Residential pressure washing
Ad group 1 – Home exterior cleaning
Ad group 2–  Floor carpet cleaning
Campaign 2– Commercial Pressure washing
Ad group 1-Exterior surface cleaning
Ad group 2– Parking lot cleaning
Create List of Your Cleaning Services categories and list
Create a list of your cleaning services and choose to prepare its subcategories. Make sure you choose all relevant services perfectly.
For example, let's assume that you run a carpet cleaning business. So your cleaning service advertisement may include the following categories:
Steam Carpet Cleaning
Hot Water extraction
Dry carpet cleaning
Heavy stain removal
Spot cleaning services
Odour removal
Pick Your Keywords
Use the free keyword research tool, Google keyword planner. It will help you to find out most relevant keywords for Google ads for cleaning businesses.
Pro Tips To Pick the right keywords
Use long tail keyword if competition is too high
Take competitive analysis to measure keyword performance
Use the most specific and relevant keywords for cleaning services.
Use negative keywords with respect to your target keywords.
Choose Where you want to Send The Campaign Traffic
Choose where you want to send your campaign traffic. Is it on your website or on any separate landing page? If you want to share your website link m make sure your website has a relevant home page. The home page should fulfil the promise of your ad copy. Otherwise, you will lose conversions and potential leads.
Pro Tips
Make sure your landing page and website are responsive
Put a powerful CTA on websites
Provide all value-adding information on your landing page or website
Keep the website design engaging and share your team's crisp introduction.
Share all information regarding the contact details clearly.
Follow where your competitors are sending their campaign traffic.
Set Some Target Devices
Where do you want to show up on your cleaning service Google ads? Is it desktop or mobile or both? Decide on this crucial matter based on your target customer behavior.
For cleaning service promotion, we will prefer to run ads mostly for tabs and mobiles. As cleaning service is a kind of emergency service people search them instantly without prior preparation.
Become A Quick Copy Writer Pro
You need to work on Ad copy to create eye-catching cleaning ads. That is why, you have to excel in creating ad copy writing. So, while writing ad copies follow the below tips:
Follow the AIDA ( Attract, Interest, Desire, and Actions).
Keep them short and crisp.
Promise to give a solution.
Use persuasive CTAs ( Call To Action).
Deliver the message directly.
Connect Your Google Ads Account To Google Analytics
Google Analytics is a free analytical tool that gives insights into Google ad performance. So, incorporating Google Analytics into your Google account will help you in performance optimization.
These tools will give you insights on web traffic analysis, and customer behavior. It will help the campaign plan with better strategy, wider reach, and better ad spending.
Discover What is Working Using A/B Testing
Split testing Or A/B testing is an important factor in Google ads for cleaning businesses. So, prepare two similar ads and keep only one variable altered. Now notice which one is performing well and keep track of their performance records.
For example, you can alter the CTAs or headlines or change any variable from the Landing Page design. This A/B testing will give you more insights into consumers' preferences and dislikes.
Get Good Bids Using Various Google Ad Formats
Using multiple Google ad formats to increase get better bids from on the Google platform. This will help you get more clicks, impressions, and conversions. Plus, it will boost your ad visibility to a bigger appearance. As a result, your CTR will be increased.
Ideas for Google ads for your cleaning company:
Try search and display ads to get clicks to get cost-effective CPC bidding.
Use video ads to increase your brand visibility and awareness with Maximum CPV( Cost per view) bidding.
Add location extensions and call extensions in all Google ad formats to get leads from Google Maps, YouTube, Google Search, and the display network.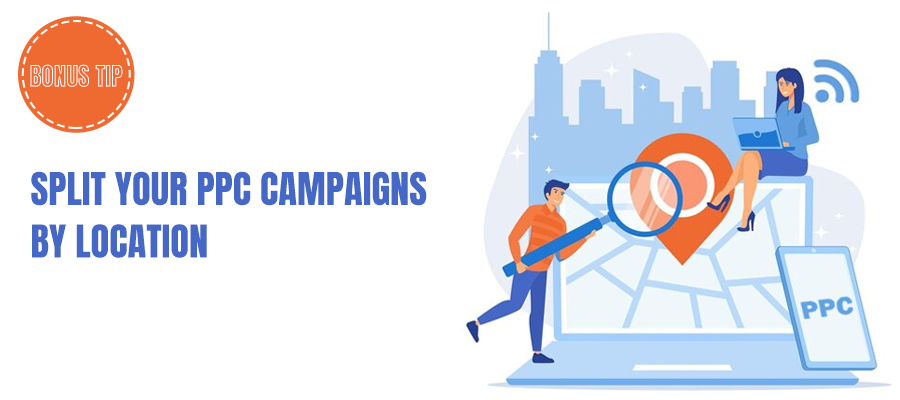 Run Your Cleaning Business ad And Track the conversion
Once you start running your Google Ad campaign for your cleaning company, you have to keep track of its performance. Here the importance of conversion tracking lies. It will help you to understand the ROI of Google ad campaigns and efficiency.
To get a clearer picture of conversions, you have to keep track of phone calls, service request form submissions, and CTR rates.
Plus, you can keep track of call extension phone calls with CRM tools for small businesses. Some of the best CRM tools are Engage Bay, Zoho CRM, and HubSpot CRM. These practices not only drive quality leads but also improve the revenue of your commercial cleaning company.
What are The Common Mistakes to Avoid in Google Ads for Cleaning Businesses?
The success of Google ads for cleaning businesses lies in the strength of the strategy. However, most of the companies make the following Google ad mistakes and end up losing money with the worst ROI. The mistakes are as follows:
Failing to Target
Most cleaning companies fail to target effectively due to a lack of advanced knowledge and expertise in Google ad campaigns. However, we know that the right targeting is crucial for Google's ad success.
Low-Quality Ad copy
Most cleaning companies fail to deliver high-quality ad copies. However, the effectiveness of the ad copy plays a crucial role in Google ads. Your ad should be able to interact with customers and create interest among them.
Running Advanced Ad knowing the Basics
Cleaning companies sometimes run an advanced quality campaign on Google ads without knowing. It leads to the wastage of money and poor performance of Google ads.
Underfunding Your Ad Spend
Ad spend is also a crucial factor that decides the success of Google Ads campaigns. However, some local cleaning brands ignore this matter. They start with a cheap bidding price in the hope of getting a good return. But practically, in this case, they just waste their money and time.
Using the Wrong Keyword Match
Using only broad-match keywords or neglecting the negative keywords can hamper your Google ad's performance. Because using only broad match keywords or ignoring negative keywords can hamper your ad's relevance. It can show your ads to some irrelevant queries or phrases. That means you can lose your ad credit with wrong clicks.
Let Us Help You To Boost Your ROIs Of Google Ad Campaign
TTC Digital is the best PPC agency that helps small and medium-sized organizations run Google Ads seamlessly. If you need our help, schedule a free consultation with us today. Have questions for us or doubts about the Google ads campaign? Leave a mail now!