Running social media marketing campaign or advertising campaign successfully depends on several matters. Designing a ROI boosting social media landing page is one of them. Why? After successfully funneling the awareness group to the consideration stage, you have to adhere to a strong conversion strategy. Here is the importance of landing pages.
Landing pages help to guide leads to conversion through a seamless road map. That is how it boosts conversion and sales by juicing out leads from social media marketing channels.
So, how to create an ROI-boosting social media-friendly landing page? Let's discover!
Ignite Your Social Media Strategy with an Exceptional Landing Page
What is a Social Media Landing Page?
Landing pages for social media are kind of web pages where audiences land first right after clicking on the lead-capturing link provided on a social media campaign. These landing pages feature responsive design and good UX for a targeted audience. In both paid and organic social media campaigns, landing pages are used.
Significance of a Social Media Landing Page
How can you use these landing pages to achieve social marketing campaign success? What are its objectives? Let's try to understand its significance from this statement-
'Landing pages have a 160% higher conversion rate compared to other types of signup forms.' [emailvendorselection] Landing pages work as a conversational tool for social media marketing campaigns.
You can provide relevant information relating to specific services or campaign details and create convenience for the audience. Landing pages are a part of quality user experiences that creates a seamless customer journey.
Benefits of social media landing pages
Let your story tell your brand message to your target.
Uplift first impress and boost the chances of conversion.
Boost brand awareness and user experience.
Let you simply fly the sales funneling process.
Boost overall ROI of overall social media campaign.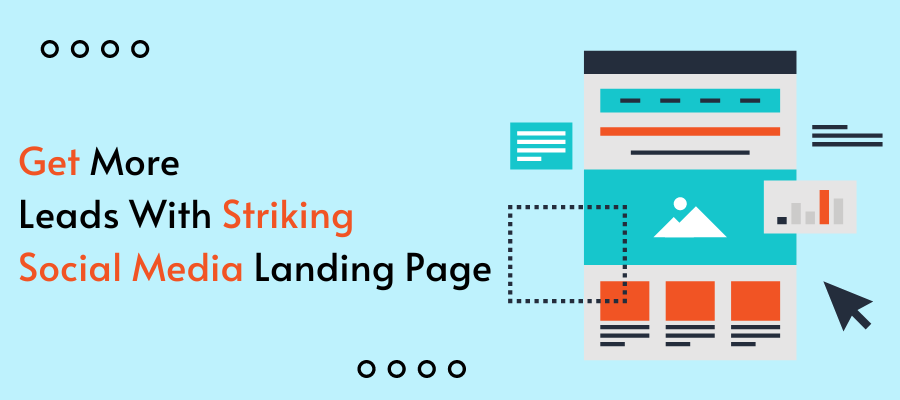 10 Tips To Craft a Superior Social Media Landing Page
Here are some tried and tested tips to build a social media landing pages. Our experts form the best social media optimization agency usually follows these tips while building social media platform landing pages for our clients. Let's see them all.
1. Choose a Simple Yet Relevant Design
Social media landing pages have a specific goal. That is why, you should not create a simple layout for this. Make sure to choose a layout design that satisfies its specific goal effectively.
You can use any landing page bundling tool or plugin for this to create a customized layout.
What is the best Social network landing page template building tool? Unbounce, Link Tree, Lnk.Bio, Swipe pages, Lead pages, Instapage are some best examples of landing page builder.
2. Write an Appealing Headline For Your Landing Page
Appealing titles or headlines on landing pages will build first impressions faster. This will also let customers know what to do next as customers are here to take action only.
Pro tips keep headlines attractive
Maintain your brand tone.
Keep the title short and relevant.
Give a clear idea to customers of what you offer.
Leave some hints on the benefits they can get.
3. Create Persuasive Propositions
Using a compelling layout is not enough or building an effective social media landing page. You have to be correct in using a message tone and creating valuable propositions.
A compelling design + content make a landing page for social media platforms convincing and evaluative.
So, how can you create persuasive offers while maintaining a consistent brand tone? Here are a few tips for you:
For ecommerce shops or online shops, offer discounts, attractive combo offers, and up-selling or cross-selling offers.
Offer gated content like success toolkit, whitepapers, and webinar registration in exchange to email or phone number only.
Promote events by offering free tiers like early bird discounts, exclusive access passes, limited-time offers, group discounts, and referral programs.
4. Maintain a Consistent Tone in Massages with The Social Media Post
Customers land on the page after getting impressed with the social media post. That means they expect to get exactly what you have promised on the page. That is why, keeping the message tone both in offers and headlines aligned with the actual post are crucial to gain trust.

Also Read
5 Low-Hanging Social Media Optimization Strategies to Try
SEO+PPC+SMO: Is This a Great Digital Strategy?
Mistakes People Make When Marketing on Social Media
5. Showcase Social Proofs
The chances of convincing customers in the first impression are wide when you know how to use it. That is why you have to include only convincing information on the landing page of Social media channels.
Social proofs are one of the critical elements that help to convert leads to customers.
So, what do social proofs mean? How to use them? Statistical numbers, reviews, PR with trusted sources, approval from authorized bodies and organizations, etc. So, you can tactically include those data like highlights to grab attention faster from targets.
6. Use Attention-Grabbing Visuals
'Adding videos to landing pages increases conversions by 86%' [emailvendorselection]
Using visuals can boost your landing page value to a certain level. So, try to use igniting images, videos, or any kind of visual for your landing pages. As a result, your audience will connect faster with the offer because they will be more engaged with it.
7. Add Call To Actions (CTAs) That Looks Persuasive
People arrive on the landing page either out of curiosity or with interest to buy. So, you have to guide them to take the right step. That is why, using compelling CTA is important.
Pro tips to create CTAs
Keep CTA relevant and very action-oriented.
Make sure it indicates the next step in the conversion journey.
CTA should showcase value-adding words like free, free of cost, quick, etc.
8. Keep crucial Offers Above The First Scroll
Both space and scope in a social media marketing landing page are limited. So how can get the most out of it? Use the space tactfully. Always put your offers and core messages above the first scroll. It enhances UX and elevates the possibilities of conversion. It also keeps customers engaged and attentive to your core social media campaign message.
9. Include All Crucial Contact Information
The social media landing page is a doorway to reach your brand. That is why, you have to make the contact information readily available. Make sure to place them at the bottom of the page.
What to include?
Provide request from link.
Provide contact details like phone number, website link, and email address.
Attach the privacy policy link to this ad you have posted.
10. Test and Optimize Landing Page Performance
Once you have launched the landing page, start tracking its performance. Because, though it looks perfect that does not means you have done with it. You have to keep the landing page's performance on track. Otherwise, you will not be able to optimize it accordingly.
Monitor key performance indicators with web analytics and social media campaign analysis tools. Make sure to perform A/B testing of images, CTAs, videos, and offers Last but not least, don't forget to optimize the landing page speed.
TTC Can Build Social Media Landing Pages to Amplify Conversions
As an expert social media optimization expert, our The TechClouds team can build captivating landing pages for your brand. We offer customized services packaged for SMEs at a budget-friendly cost.
Want to get most out of it? Book a free consultation with us today to share your need and expectation!