The market of CBD products is expanding around the world. CBD and hemp-based food, pet, and wellness products have high demand in the market. It is a rising trend for people to fall in love with this uncommon stuff in their essential commodities.
It has also made a mark in the market. If you take a close look at the market, you will get to know most CBD sellers are running home based CBD businesses. These home-based brands operate and promote their business online.
Despite these growing trends, marketing CBD products online is not easy. Running a CBD store online faces many challenges.
Are you also interested to operate your CBD home-based business? In this blog post, you will get an in-depth on step by step guide to launching home based online business from scratch.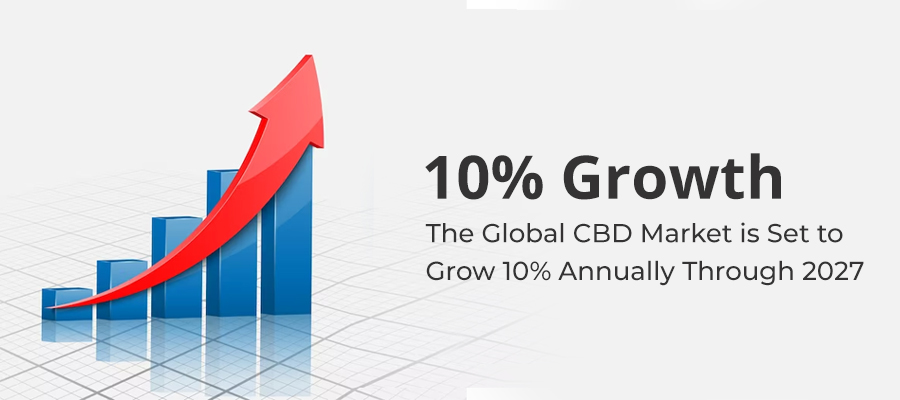 Is CBD a Good Business to Invest In?
Yes, the CBD market has lots of opportunities. Becoming a participant in this market is worth it. The CBD market research has revealed that-
 "The global cannabidiol (CBD) market size was valued at USD 6.4 billion in 2022 and is expected to grow at a compound annual growth rate (CAGR) of 16.2% from 2023 to 2030." [grandviewresearch]
However, if you want to be a participant in the CBD industry because it is flourishing now, then it's a mistake. Why? The answer has already been laid in the question. You must have a clear motive and goal before taking part in this industry. Investing effort in futility will tire you if there isn't a sole purpose to perform here.
How Much Does it Cost to Start CBD Business?
Startup CBD Brand setup cost ranges from $ 7000 to $ 20000. Its major elements include the cost of licenses and permits, insurance, website, marketing and advertising, purchasing CBD inventory, and so on.
However, the moderation in your business model and the scale of operation determines its actual value and revenue forecast.
How to Start a Home based CBD Brand Online?
Let's learn how to build a home based online brand to sell CBD products from a step by step guide. Here are the streamlined steps to follow:
Identify your niche and Product
Once you have decided that the CBD business is right for you, it is time to decide your ideal niche and products.  In the market, there is a wide variety of CBD products, ranging from food and beverages to cosmetics and pet products. Choose the niche that interests you most.
Pro Tips to choose the right niche and Products in the CBD industry
Assess the market trends and retail products' value
Take a look at its past growth record and forecasts for revenue
Consider the trends and challenges of the niche
Understand the market value of your products
Identify the niche consumer spending
Assess your interest, strength, and weakness.
Understand the legal aspect of your target market
Once you have chosen the right product for you, it's time to take skeptical steps to gradually become someone in the market. Hence, knowing the legal aspect of your target demography is crucial.
CBD products are legal if it contains less than 0.3% THC concentration. However, local laws may differ from the standard.
Choose a name for your home based CBD business
Brainstorm a name for your online CBD brand as it's very crucial for your brand to achieve a market position. Make sure the name remains aligned with your goal and brand image.
Pro tips choose the best name for CBD Brand
Keep it crisp, unique, and relevant to your products and services.
Keep it easy to spell and understand your target audience.
Include SEO keyword to the name that goes with your customers' search intent. (e.g.- 'CBD oil', 'CBD skincare', 'CBD pain reliever' etc.)
Also Read: Cannabis SEO Marketing Game Plan
Register your CBD business and get your business license
Register your business to adhere to the local laws and get your business license and legal documents. It will help streamline the market expansion process and make your CBD brand legal and trustworthy.
Primarily, you have to obtain two licenses- one is a business license and the other one is a resale license. Business licenses mean taking legal permission to start making your CBD business online. You need a resale license to buy CBD products from a wholesaler. However, you should take deeper knowledge of local laws from your area of business operation to avoid local laws.
Checklist to cover while handling the legal aspect of your CBD Brand
Register your online CBD business for taxes.
Get your business insurance cover
Open an official bank account for business transactions
Obtain all licenses and permits according to state laws and local rules.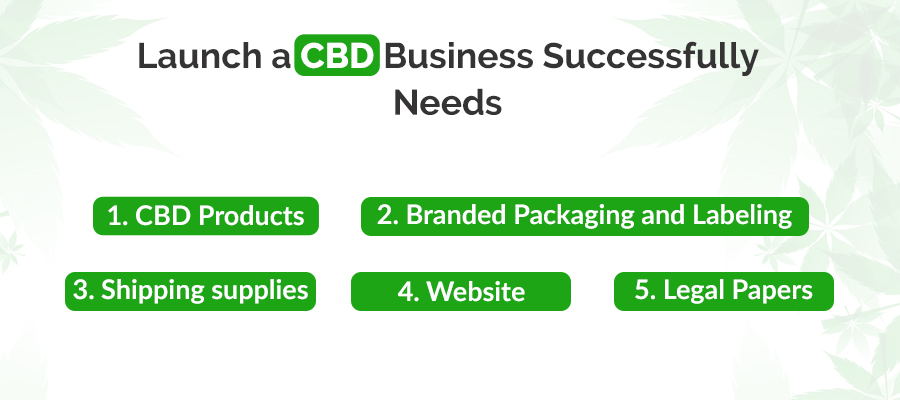 Conduct online research on your customers
Customer data is crucial to design your business model including product design, marketing strategy, packaging, shipping, and many more.
 Hence knowing the customers is vital to launch your business successfully. Recognize their demands, expectations, and pain points.
Conduct a study on your customers and get insights into competitive edges
If you want to identify your business USP, you will have to get insights on the competitors. Know how are they doing? What are the latest trends they are following? Are they doing well? Know everything before you launch your brand.
Focus on your CBD Brand's USP
Once you know CBD business opportunities after taking a rigorous market study on customers, competitors, and growth opportunities, it's time to focus on building your brand's USP. As USPs will turn your CBD home-based business into a brand.
Why should people purchase from your business? Ask yourself and brainstorm the idea that differentiates your business idea. Showcase that unique essence on products, marketing, websites, customer services, and other aspects of your business.
Get more insights form our CBD Branding Tips.
Find a reputable supplier for CBD
Whether you resale or produce DIY products, in both cases you have to rely on reputable suppliers. Hence, finding the best supplier of supply quality finished goods or raw materials are crucial.
Things to consider
Take lab tests before approving any product for sale.
Be aware of the THC concentration while supplying nationwide or beyond national barriers.
Build a branded website for your CBD brand
Home-based CBD brands must have a website that looks like your brand. Hence, taking care of all aspects of CBD website development is critical. Plus, having branded website will add the value of professionalism to your home-based business.
You can build a DIY website on Shopify or WordPress. However, for newbies developing a website while taking care of all technical knickknacks is challenging.
Don't worry we have a CBD website design guide for that. You can build a customized website with an outsourcing website development agency. Don't worry we have a solution for that. You can build a customized website with an outsourcing website development agency.
Kick start your online marketing campaign
Once you have launched your website and brand in the market, start taking action on a rigorous online marketing campaign. You have multiple options to try in digital marketing landscapes. Starting from social media promotion, content marketing, and search engine optimization to the influencer market- it has a diverse scope.
What works for you and your target audience, identify and kick-start your marketing campaign.
Summary: Are You Ready to Build The Best CBD Home Business Online?
Building a home-based business to sell CBD online is challenging in the aspect of local laws and regulations. However, if you get the right kind of guidance and advice form market experts, things will be streamlined.
What do you think about this? Are you ready to hire a CBD business solution provider to grow your business at a galloping rate? Then contact our team to discuss your concerns with us!